How to earn and pay with Airtable credits
15 Feb 2023

3 Minutes to read
How to earn and pay with Airtable credits
Updated on 15 Feb 2023

3 Minutes to read
---
Airtable credits can be used to reduce the amount you have to pay for an invoice for Airtable Plus and Pro plans . This article covers how to earn and pay with credits.
How to earn credits
You'll receive $10 of Airtable credits for each person you invite to Airtable. You can invite people to use Airtable, and access an Airtable-referral link, from the Referrals and credits section of your Account page (Airtable.com/account, accessed from a laptop or desktop).
NOTE
Here are a few scenarios that would result in you not receiving credits:
The invitee already has an account.
The invitee has not verified their account via email.
The invitee has previously accepted another invitation for credits.
If you would like to invite someone to collaborate with you in Airtable, you will need to add them as a base or workspace collaborator (you will still receive Airtable credits when doing so).
How to view your referrals and credits
You can view any referrals and available credits by opening the Referrals and credits section of your account page.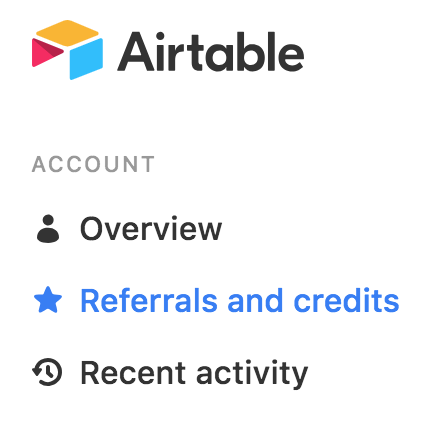 From here, you can see the total number of credits you have and how you got those credits. You can also see every person you've invited, email out new invites, and find your referral link that you can use to get credits for referring new users.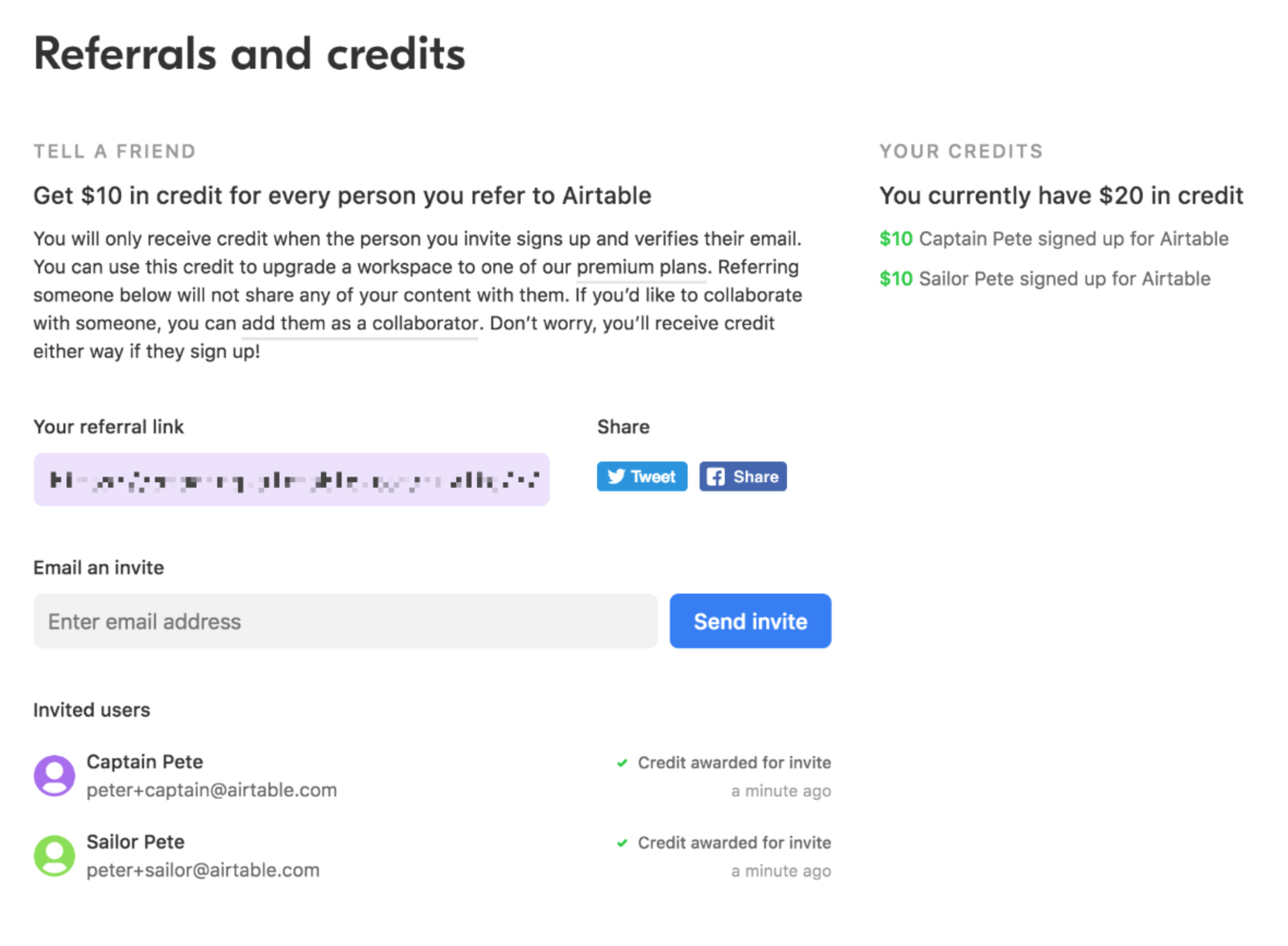 How to pay with credits
To pay for an upgraded workspace with Airtable credits, the credits first have to be applied to that workspace, otherwise, the credits won't be applied until the next billing cycle.
Open account page
You can apply credits to a workspace by going to your account page, and then clicking into that workspace's settings page in the left sidebar.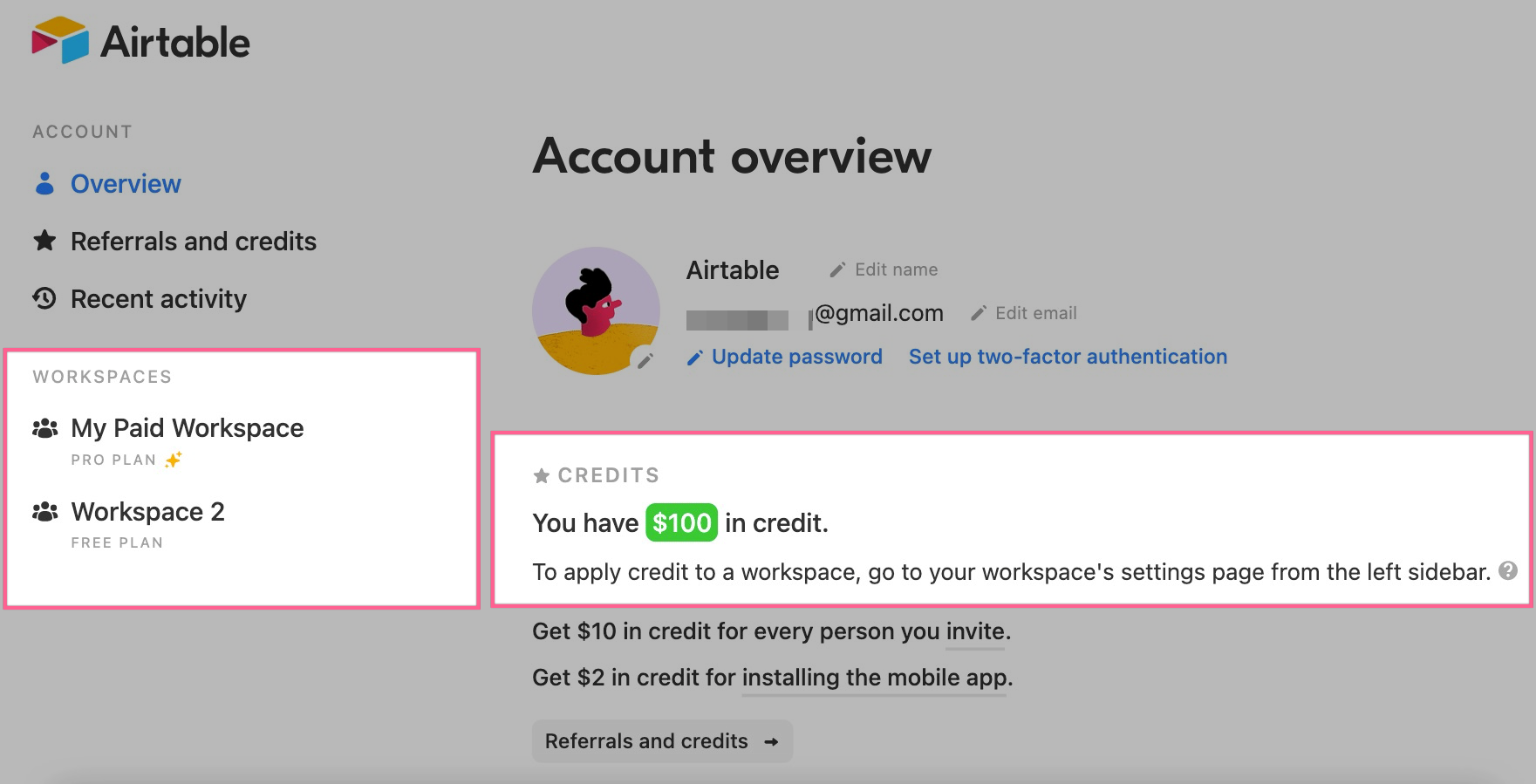 Transfer credits to a workspace
In the Billing plan section of the workspace settings page, there is an option to transfer personal credits to the workspace. Clicking the transfer option will bring up a window in which you can enter the number of credits you wish to transfer. You must transfer credits to a specific workspace in order for them to be applied to a bill.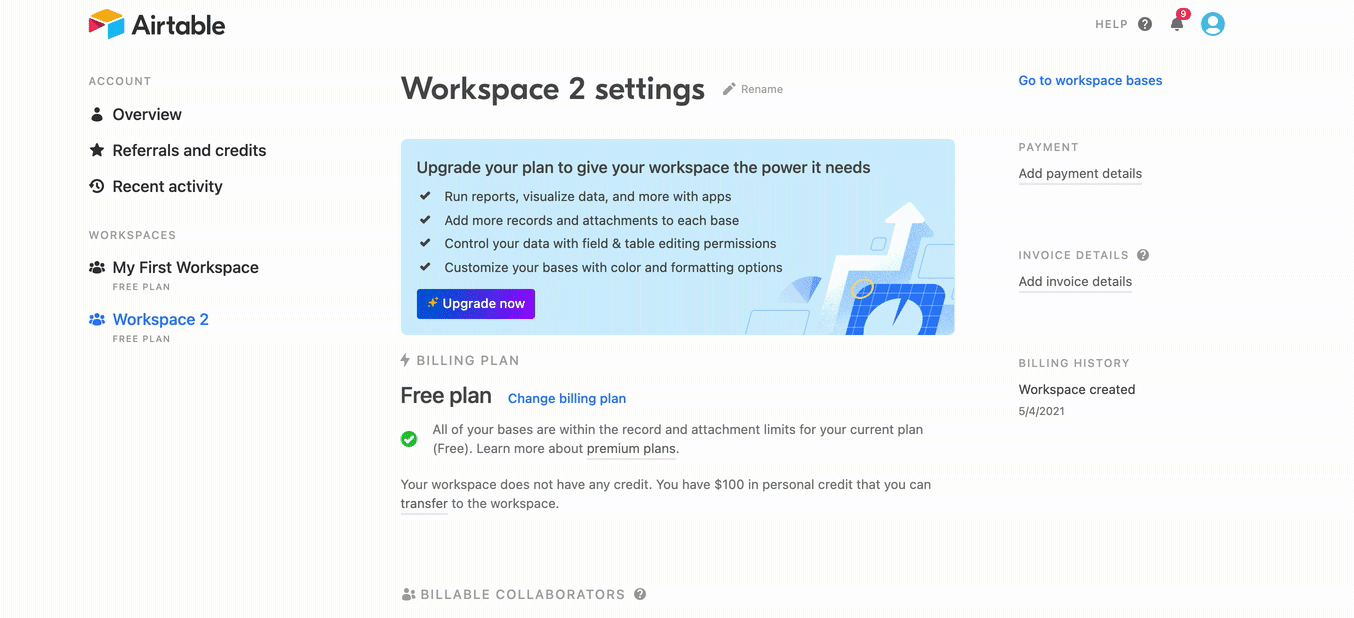 You can also apply personal Airtable credits to a workspace from the upgrade checkout screen by clicking the "Apply up to $X in credit" option above the total.
FAQs
How do I earn Airtable credits?
You can receive $10 of Airtable credits per Airtable signup through your referral link, which you can find by clicking here.
How do I reduce my invoice by applying credits?
First, you need to transfer credits from your account to the workspace where you want to apply them. Once credits are applied to a workspace, any future invoices will automatically use any available credits to reduce the invoice amount.
Can I transfer Airtable credits from my workspace back to my personal account?
Can I get a refund on promotional Airtable credits?
Promotional Airtable credits are not redeemable for cash.
Do Airtable credits expire?
Any credits issued since January 1, 2023, expire one year following their accrual or upon expiration or termination of your Airtable Account, whichever is earlier. However, any credits accrued to a workspace on a free Subscription Plan will expire ninety (90) days after accrual (unless otherwise specified) if the workspace's Subscription Plan has not been upgraded to a paid Subscription Plan. Credits have no currency or exchange value and are not transferable or refundable. Certain credits issued prior to January 1, 2023, have no expiration date. If you have additional questions regarding the expiration of your credits, please submit them using the Message Support link under the Help menu within Airtable or the How can we help? interface at this link.
---
Was this article helpful?
---
What's Next